Looking ahead...
we are closing early at 4:00 on Friday May 29th
for Whitman Hanson High School Graduation ceremony.
Congratulations to all Graduating Seniors! Be proud, walk strong and believe in yourself. Only you can write your life's story. God Bless!

Roses are special, given in love
and remembrance for many occasions.
Preserve them in a rosebead keepsake.
Using your dried roses, each bead is handrolled making a
unique piece to treasure and honor a special occasion.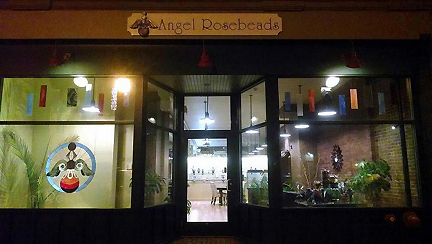 Every rose is cared for by me and honored with respect of the person it represents. I handroll each bead which makes each piece unique. I treat each rose as if it were my own. Thank you for allowing me to create a special keepsake for you.
I'm excited to share this beautiful and comforting gallery with you where you will receive personal, one-on-one care. We can take the time you need to touch and see the items I make.
Please come in during these hours:
Tues - Fri: 1pm - 5pm Evening hours available upon request.
Sat - 11am - 4pm by appointment please
Picking up beads does not require an appointment.
Sun & Mon: closed
These are scheduled closings during the year:
President's week (school vacation) in February
June 28th - July 6th
August 1st (a Saturday) for a family commitment
October 10th (a Saturday) for a family commitment
A week in October TBA
Thanksgiving Eve & Thanksgiving day
Christmas Eve through New Years day
Dianne Johnson ~ 781-447-2633
542 Washington St.
Whitman, MA 02382
2004-2015 All content, logo and angel pendant is a LEGAL REGISTERED TRADEMARK and LEGAL COPYRIGHT of Dianne Johnson, Angel Rosebeads.